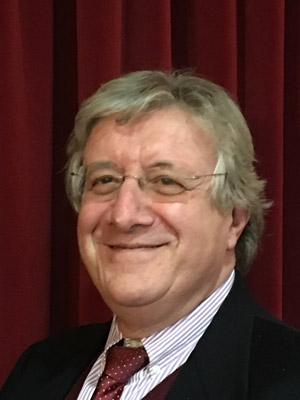 Born in Rome, Italy, on April 6, 1950, he graduated in Medicine (1974). He postgraduated in Endocrinology (1977), Aerospace Medicine (1984) and Nuclear Medicine (1987) and he got the Master in Bioethics (2005).
Now he acts as Senior Researcher at the IRCCS San Raffaele Pisana and as the Coordinator of the Endocrine Unit at Elle-Di, Rome, Italy. He has been the Coordinator of the Department of Metabolism, Nutrition and Wellness of INRCA (Italian National Research Centers on Aging) and the Director of the Unit of Endocrinology and Metabolism of Rome's Site, where he has been working as an endocrinologist since 1977, serving as the Head of the Hormone Section from 1988 to 1999 and as the Director of the Complex Unit of Endocrinology and Metabolic Diseases thereafter.
Since 1989 has been in charge of the course in "Pathophysiology of Man in Space" at the Postgraduate School of Aerospace Medicine, Rome University "La Sapienza". During the last 10 years he has also been in charge of lectures related to Aging at the Postgraduate School of Endocrinology of the Rome University Sapienza, to Chronobiology at the Rome International Postgraduate School of Aesthetic Medicine, to "Drug research and treatment in the elderly" at the Ancona University Master of Bioethics and to General Endocrinology at the University of Milan, Faculty of Pharmacy.
He was awarded two research grants at the WHO Human Reproduction Laboratory at the Karolinska Hospital, Stockholm, Sweden, Director Prof. E. Diczfalusy (1975 and 1980). He has been a Life Sciences Co-Pi and PI in two space missions (SL1, 1983 and D2, 1993, respectively). As for clinical research activities, he is a member of the Management Committee of the Italian Society of Chronobiology (SIC) and he has been the General Secretary of the Management Committee of the Lazio Region chapter of the Italian Society of Endocrinology (SIE). He is member of IAA and of ELGRA (of which he has been acting as Vice-President for 4 years) and is Vice-President of the Italian Association of Aerospace Medicine (AIMAS) and of the Italian Society of Onco-Geriatrics (SIGerO) In 2014 he has been appointed as Director within the Executive Committee of ESAM (Europan Society of Aerospace Medicine)
He is the author of a number of peer reviewed papers related to diabetes, to the neuroendocrinology of aging and of appetite regulating hormone secretion, as well as to aerospace medicine with respect to nutrition, gonadal function and aging.